6. PA_Graph_Site_List_Library_Columns Flow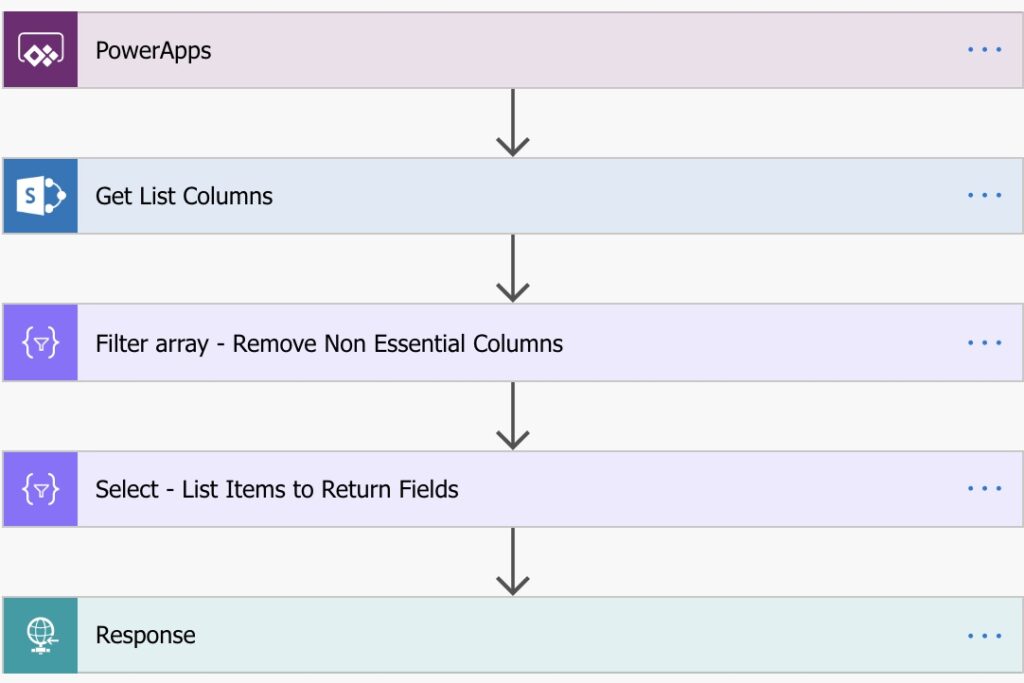 PowerApps Trigger
A PowerApps Trigger action instantiates this Flow.
This Flow is used to retrieve the schema definition for any List or Document Library. When this Flow is added to your app and run for any given List or Document Library you may be consuming content from within your app, the schema definition for that list or library can consequently be used for many different use cases.
By way of example, I can list a few ideas that I could think of largely based on Ideas submitted for by App Makers on the PowerApps Community forum for new native features to be potentially be implemented in PowerApps:
Dynamically changing the column descriptions for fields that may perhaps be added to a form, such that the Display Names for any fields in the list or library would no longer need to be modified many within the app
Leveraging the schema definition expose using this Flow for any List or Document Library such that you could possible create your own dynamic forms in your app that are not strictly bound to a specific SharePoint List or Library.
They would be account it would almost certainly entail additional work to build a reusable app using the Flows shared in this Blog and perhaps some Flows that may enable other functionality requirements you may need to implement. As with most custom developed applications, the additional effort require to enable an app to more completely reusable would need to be weighed up insofar as implementing multiple instance of that app and all the subsequent operational costs managing all the instants of that app, including rolling bug fixes and new functionality.
The required input parameter to the Flow is the combination of the Site Id and the List Id of either the List or Document Library queried.
SiteID/lists/ListId
By example:
tenant.sharepoint.com,7dd3c931-8395-4e34-9c43-80cb6a65a242,51ba76e5-881b-4b69-a843-e9a9dfe347d9/lists/0geg4ed6-8c35-4grerb-bedc-618e504aerr0
Get List Columns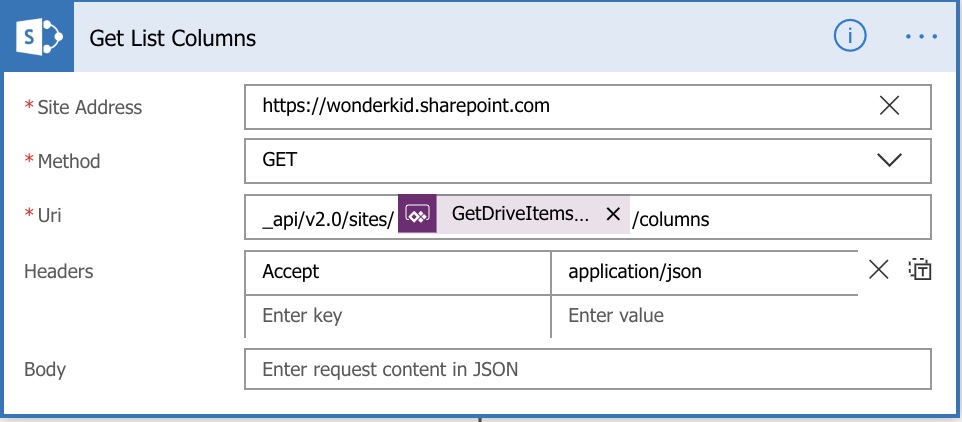 The Uri property value for this step in the flow should thus look similar as follows:
_api/v2.0/sites/tenant.sharepoint.com,ew30a22f-ddd23-4d25-0eb1-080c87af0b6s6,798808398-046f-45f4-bg30-04ed3ce6e2fb2/lists/03ebie1a-9ade4-90c0-afab-2253308ab801/columns

_api/v2.0/sites/{SiteId}/lists/ListId/columns
There is an alternate method exposed by the Graph APIs which to quote:
Note: These properties correspond to SharePoint's SPFieldType enumeration. While the most common field types are represented in the previous table, this beta API is still missing some. In those cases, none of the column type facets will be populated, and the column will only have its basic properties.

https://docs.microsoft.com/en-us/graph/api/resources/columndefinition?view=graph-rest-beta